Boost Performance by Boosting Employee Engagement
| | |
| --- | --- |
| By Fallon Consultants | On October 15th, 2014 |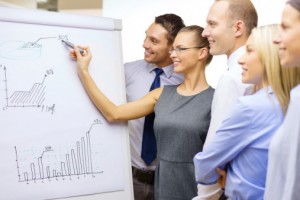 How is your organization performing? You know the answer to this question because of metrics and measurable goals. But behind all those numbers are the efforts of individual employees whose work enables your business to attain those goals.
Research shows that your employees' level of engagement can affect your organization's performance in a number of areas, including productivity, customer service, safety, and profitability. A study by Gallup shows that organizations with high levels of employee engagement are, on average, 22% more productive, and Towers Perrin reports that companies with engaged employees have 6% higher profit margins. Right Management also supports findings of a tangible relationship between engagement and organizational performance.
How to get employees engaged
So how can you harness the power of employee engagement for your business? The first step is understanding what engagement actually is. Essentially, engagement is how emotionally committed an employee is to a job and an organization. Engaged employees are willing to "go the extra mile" for the organization. They're not just working for a paycheck — they want to help the business meet its goals.
You can use engagement to improve your business's performance. Here are some ways to include it in your business strategy:
Give consistent feedback that focuses on employees' strengths.
Continually communicate your organization's goals.
Implement programs that enhance employees' well-being.
Promote engagement from the top down by involving company leadership.
Ensure that managers work with employees to identify obstacles to engagement.
It's important to define goals for improving engagement, but make sure you keep them realistic. And remember that your entire organization needs to be involved for a true culture of engagement to exist — so include engagement in managers' performance expectations, too.
Improving engagement isn't a cure-all for poor performance, but it plays a crucial role and should be a part of every organization's performance improvement strategy. If employee engagement is a problem in your organization, but you don't know how to turn it around, contact Fallon Consultants at [email protected] or 845-624-3504. Our HR consulting services can help you motivate. engage, and retain your valued employees.