Food for Thought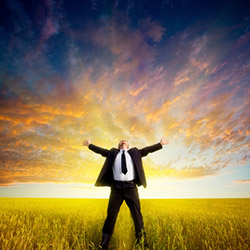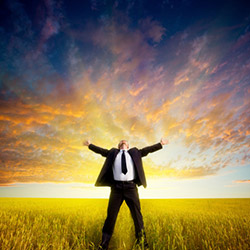 Do just once what others say you can't do, and you will never pay attention to their limitations again."
— James R. Cook
Integrate Analytics into Your Company's Culture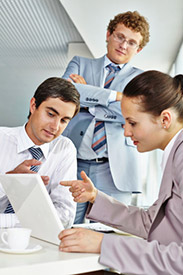 Q. We've been talking a lot about data analytics at our company, but it feels just like another add-on. How can we adopt analytics in a way that makes a real difference?
A. The most efficient — and effective — approach is to truly embed data analytics into every level of your organization. A business that integrates analytics into its culture empowers employees to improve decision making and drives business changes by providing data that creates value.
You're right that simply using analytics to support the status quo or to jump on the latest technology bandwagon is a mistake. But if your company can objectively evaluate data that might be counter to assumptions and can change its strategy based on that data, then analytics can be incredibly effective. After all, the point of analytics is to create business value — you can't just look at the data; you have to use it to get results.
SAS Institute claims that if you can get your company to buy in to analytics adoption throughout the organization, you can reap numerous benefits:
You can anticipate and prevent problems rather than simply reacting to them.
You can deliver reliable information to decision makers.
You can use real data and facts to formulate business strategies and evaluate progress.
You can gain more extensive and accurate insight into customers' needs and wants (especially useful if your company uses design thinking).
Be aware that one of the most frequent roadblocks to successful data analytics is an unwillingness to make fact-driven choices based on data that points out flaws in a business decision. Analytics can provide reliable information that enables fact-based decision making. But the data must also be presented effectively, for example, by using clear graphics and presentations that make data easy to interpret and act upon.
If you want to integrate data analytics into your culture but don't have the in-house analytics expertise, Fallon Consulting's financial consulting and data analytics solutions can help.
Fallon Adds Insurance Expertise to Services Lineup

Fallon Consultants has long been known not just for our strategic and financial consulting services, but also for our expertise in business process analysis. We're excited to announce that we're expanding our competencies even further by partnering with Q_PERIOR! A provider of business process and IT solutions, Q_PERIOR is focused primarily on the insurance and reinsurance industries.
Q_PERIOR's core offerings in the insurance/reinsurance industry include
project and change management,
business process and IT management optimization,
staffing solutions for resourcing shortfalls and projects, and
creating solutions for regulatory reporting requirements (e.g., Solvency II, CCAR).
Q_PERIOR brings solid credentials to the partnership that complement Fallon's service offerings and experience:
Over 30 years of experience within the insurance industry, successfully implementing a broad range of projects
Substantial international experience: Q_PERIOR has rolled out and managed successful projects in 30 countries
Expertise in integrating teams from multiple vendors across multiple locations
Over nine years as a SAP Special Expertise Partner for insurance and finance
Recommendations from the world's top insurance and reinsurance companies
Although Q_PERIOR has developed its primary skill sets in the insurance industry, the company also provides solutions in other areas, such as banking, manufacturing, and the public sector.
Welcome, Q_PERIOR! We look forward to the expanded capabilities the partnership will enable us to offer our customers.
Solving Business Problems with Design Thinking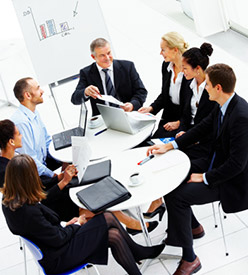 "Form follows function" is an adage that many businesses consider standard practice. But for the past decade, another idea has been gaining traction: Design thinking, a "human-centered" method of meeting design challenges. This method can help your organization to create products and solutions that address existing client needs. Forget about brainstorming new products and then searching for the right customer base. In design thinking, the customer truly comes first.
Know your customers
Many notable companies, such as SAP and Apple, apply design thinking. At its core, the method revolves around the customer's needs by considering these questions:
Who are the customers?
How do they behave?
What problems do they face?
What limitations and challenges affect them?
What do they want?
Rather than start with a hypothesis and eliminate ideas, a design thinking team identifies problems and then looks for solutions. The result is an experimental, collaborative approach.
For example, using a process described by Stanford Graduate School of Business, a team starts by understanding, through direct observation and engagement, the people who need the solution. The next step is to generate numerous possible solutions, even those that seem far-fetched. The team then evaluates all these ideas and chooses the most compelling ones to develop into a prototype. Finally, the prototype is tested and refined.
The key to this method's success is a team's willingness to adjust the solution or throw it out and start with another, all based on user feedback.
Create true innovation
Forbes notes that one of the primary benefits of design thinking is the likelihood that it will produce real change or innovation. Because the entire point of the effort is to solve an existing problem or need, this method of development can help your organization avoid "the chaos of inefficiency" that besets all too many companies.
Design thinking, by its nature, differentiates your company's products or services. Instead of creating solutions that seem repetitive or superfluous, teams begin to develop ideas that solve real challenges in a way that matches users' needs.
This approach can also result in faster time to market than more traditional linear approaches. Although more time is spent up front during ideation, the prototyping and testing phases are meant to occur as quickly as possible. And because so many ideas are already on the table, any need to tweak or scrap the initial solution does not necessitate a return to the drawing board. Alternative solutions are already at hand.
Design thinking can also help your company to stay flexible and innovative by preparing your design teams to better respond to market changes and evolving customer needs.
Ask for help if necessary
Data analytics can provide the necessary user data to help your team define and refine ideas. The booming demand for skilled analytics professionals can be a stumbling block for some organizations.
"Design thinking is not easy," says Stanford. "It requires constant creativity and the willingness to adapt on the fly. Even people who have been practicing design thinking for years need the rigor of the process."
In such cases, bringing in a managed services company such as Fallon Consultants can help you jump-start the process.
Why Should You Care About Core Competencies?
The idea of core competencies has been around for more than 20 years – and now this concept is more relevant than ever. Essentially, your core competency defines the skills and expertise that differentiate your company from competitors and provide a strategic advantage. In today's technology-driven market, your core must be as strong as ever, but it must also be flexible.
Know your strength
Like your body's core, your primary competencies hold everything together, keeping the overall body of your organization steady and moving in the right direction.
The effect of core competencies carries over into all business areas:
Customer service
Sales
Social media strategy
Market perception
Vendor relationships
Companies that don't clearly understand or cannot explain their core competencies cannot fully engage in these areas. For example, without a distinct core to strive for, you might provide services that don't match customers' expectations.
Strive for flexibility
But just knowing your core isn't enough in today's market. Digitalization –  in which technology is involved with every aspect of a company –  is fast becoming an expectation of both colleagues and customers. The organization that understands its core competency enough to stretch into this new way of business can adjust or redefine that core to get the most out of digitalization.
The Harvard Business Review suggests that today's companies define core competencies that encourage customers to collaborate and add value. Your customers' needs and wants should dictate the competency, rather than the competency informing customers what they should want. Achieving this goal is easier for digitalized companies, in which customer feedback is intrinsic.
Stay fit
Are your business's core competencies clearly defined, yet flexible enough to adapt to change? Use this checklist as a guide:
Does your company have a mission statement? (And is it still relevant?)
Do your core competencies match what your company actually does?
Can your core competencies accommodate new market opportunities?
Are you willing to disrupt the company's core competencies to ensure the company's future?
Are you paying attention to customer feedback?
Companies that can answer "yes" to these questions are well placed for a successful future. For example, Nike decided that its core competency wasn't just making fitness shoes, but enabling fitness, so it now makes iPhone apps and web services that support its customers' fitness activities – products that today's plugged-in customers want. Apple – perhaps the company with the most flexible core of all – went from personal computing to music players to phones to search (Siri). Is your core flexible enough to make similar adjustments?
If your company is struggling to define its core competencies or to adapt them to changing market needs, Fallon Consultants can help. We offer business development strategy consulting that can help your company understand and leverage its core competencies and implement strategies that result in sustainable profitability and growth.
Make Better Hiring Decisions with Help from Analytics

Q. How can data analytics help with recruiting?
A. HR and recruiting organizations are increasingly using data in several ways:
To screen potential employees; for example, to identify high risks for stealing, drug addiction, or disability claims.
To forecast staffing needs.
To predict how a candidate will perform in a job.
Xerox, for example, uses Evolv workforce analytics software to screen applicants. The Wall Street Journal notes that Xerox used the software to analyze call center employee data. The results determined that the best employees in that job weren't necessarily those
with experience, but those with a certain personality type. Xerox then adjusted the personality tests that it gives potential hires to screen for the desired personality type. As a result, employee performance has risen by 3-4% and retention has improved.
Using predictive analysis in hiring has several potential advantages:
It's more precise and objective than conventional hiring methods.
Using tests to gather the needed data and then using that data to predict success seems to reduce employee turnover.
It makes it easier to find employees that are a good fit for the company's culture.
Companies can use data to improve candidates' hiring experience.
The Washington Post notes that the best systems collect real-time data and then act on that data quickly to improve the interaction. For example, if candidates are frustrated because a job description is inaccurate, you can flag that description for review. Real-time data allows recruiters to "course-correct."
Of course, there are also risks to using data in the hiring process:
This method does not guarantee that a particular hire will be successful.
The tools require good data to be effective, so you need an extensive body of historical data for each job position.
The tools do not directly assess whether a person can do the job; rather, they indirectly assess the person's fit for a particular job.
Some questions could violate Equal Employment Opportunity (EEO) laws if the resulting data is used to screen certain statistical groups and eliminates too many candidates in a protected group.
Businesses should carefully review the details of any software and use predictive analytics carefully to avoid legal risks.
Despite some resistance, analytics as a hiring tool is probably here to stay. It makes the process more efficient and removes some of the recruitment burden from HR departments. A consultant that provides data analytics and HR services, such as Finance Analytic Corporation or Fallon Consultants, can provide further expert guidance to help you refine your company's recruiting process, so you're hiring the best-qualified candidates who fit with your company's culture.
Food for Thought
"A business has to be involving, it has to be fun, and it has to exercise your creative instincts."
– Richard Branson
Do You Have a Business Digitalization Strategy?
Business IT is transitioning into the digitalization era – what Gartner calls the "third era of enterprise IT." What exactly does digitalization mean – for you, and for your organization?
The next wave
Today's customers expect to do everything online: Conduct business and personal transactions, track orders, view usage data, and communicate with vendors, customers, and colleagues. That reality is forcing companies to move beyond using IT in a supportive role and into a union of IT and business strategy.
Companies that produce products that have nothing to do with IT are becoming companies that not only use, but also produce digital services and products to increase customer benefits, involvement, and loyalty. Social media, mobile and cloud computing, Big Data and data analytics, and agile methods are becoming central to every campaign, product, and service, enabling companies to forge closer connections with their customers.
Connected companies
Connected consumers demand connected companies, and digitalization offers this connection. But most companies have been slow to digitalize. Many are still planning their cloud migrations and struggling to keep their Facebook page updated, let alone dive into digitalization to the extent that customers – and competitors – require.
What does a successfully digitalized company look like? Consider how your business stacks up in these categories:
Collaborative, mobile, and personalized – Can customers access information online, from any device, at any time? Do you use apps or specialized content to personalize the experience? Can customers interact with your company; for example, can they provide instant feedback – and do you actually pay attention to it?
Using IT to innovate – If you're focused on toeing the bottom line rather than using IT to create new ideas and value around your customers' needs, you're lagging behind the times. Expect your clients to look elsewhere for a more responsive company.
Evolving business models and processes – Every step of nearly every business can be digitalized, from creation of products or services to production to delivery. ZDnet suggests that organizations can ease this transition by looking for "repeatable patterns that accelerate performance" and focus on the user.
Prepare for digitalization
Most CIOs say they are unprepared for digitalization. Gartner notes that 51% of surveyed company leaders worry about digital proceeding "faster than they can cope," and 42% "don't feel that they have the talent needed" to define and implement a digitalization strategy.
If you're part of this group, you can change those figures by committing to taking significant and immediate steps toward digitalization:
Build your organization's digitalization skill set. Add user experience designers, data scientists, and IT experts in mobile, social media, and cloud management. If necessary, purchase or outsource some aspects of digitalization, such as data analytics or cloud management – at least to get off the ground.
Develop a plan. Digitalizing your business processes requires forethought and a solid plan, since the effort should affect every aspect of your organization.
Get leadership buy-in. Company leadership must commit to digitalization and implementation via digital-savvy managers. Forward-thinking business and IT leaders must start to look at IT as an innovation center that can be used to meet customer needs, not just as a physical infrastructure and a way to support email.
Make data decisions. Assess how decision-making data is collected and what additional data is needed. Give customer-facing departments real-time analytics to improve front-line decision making and customer service.
Go mobile. Find new ways to use mobile technology to improve both customer and employee experiences.
Respect privacy. Review your organization's privacy policies and make sure your digitalization strategy is compatible with them.
Don't get left behind. If the idea of digitalization seems overwhelming, don't hesitate to contact a reliable and expert advisor such as Fallon Consultants. Outsourcing projects such as data analytics can give you more bandwidth to focus on business planning to align your core competencies and digital capabilities.