Integrate Analytics into Your Company's Culture
| | |
| --- | --- |
| By Fallon Consultants | On July 22nd, 2014 |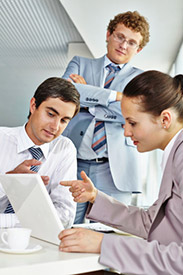 Q. We've been talking a lot about data analytics at our company, but it feels just like another add-on. How can we adopt analytics in a way that makes a real difference?
A. The most efficient — and effective — approach is to truly embed data analytics into every level of your organization. A business that integrates analytics into its culture empowers employees to improve decision making and drives business changes by providing data that creates value.
You're right that simply using analytics to support the status quo or to jump on the latest technology bandwagon is a mistake. But if your company can objectively evaluate data that might be counter to assumptions and can change its strategy based on that data, then analytics can be incredibly effective. After all, the point of analytics is to create business value — you can't just look at the data; you have to use it to get results.
SAS Institute claims that if you can get your company to buy in to analytics adoption throughout the organization, you can reap numerous benefits:
You can anticipate and prevent problems rather than simply reacting to them.
You can deliver reliable information to decision makers.
You can use real data and facts to formulate business strategies and evaluate progress.
You can gain more extensive and accurate insight into customers' needs and wants (especially useful if your company uses design thinking).
Be aware that one of the most frequent roadblocks to successful data analytics is an unwillingness to make fact-driven choices based on data that points out flaws in a business decision. Analytics can provide reliable information that enables fact-based decision making. But the data must also be presented effectively, for example, by using clear graphics and presentations that make data easy to interpret and act upon.
If you want to integrate data analytics into your culture but don't have the in-house analytics expertise, Fallon Consulting's financial consulting and data analytics solutions can help.
For more information about how a solid strategic plan can benefit your business, contact Fallon Consultants at [email protected] or 845-624-3504.