Solving Business Problems with Design Thinking
| | |
| --- | --- |
| By Fallon Consultants | On July 22nd, 2014 |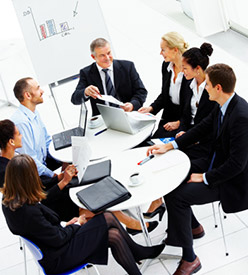 "Form follows function" is an adage that many businesses consider standard practice. But for the past decade, another idea has been gaining traction: Design thinking, a "human-centered" method of meeting design challenges. This method can help your organization to create products and solutions that address existing client needs. Forget about brainstorming new products and then searching for the right customer base. In design thinking, the customer truly comes first.
Know your customers
Many notable companies, such as SAP and Apple, apply design thinking. At its core, the method revolves around the customer's needs by considering these questions:
Who are the customers?
How do they behave?
What problems do they face?
What limitations and challenges affect them?
What do they want?
Rather than start with a hypothesis and eliminate ideas, a design thinking team identifies problems and then looks for solutions. The result is an experimental, collaborative approach.
For example, using a process described by Stanford Graduate School of Business, a team starts by understanding, through direct observation and engagement, the people who need the solution. The next step is to generate numerous possible solutions, even those that seem far-fetched. The team then evaluates all these ideas and chooses the most compelling ones to develop into a prototype. Finally, the prototype is tested and refined.
The key to this method's success is a team's willingness to adjust the solution or throw it out and start with another, all based on user feedback.
Create true innovation
Forbes notes that one of the primary benefits of design thinking is the likelihood that it will produce real change or innovation. Because the entire point of the effort is to solve an existing problem or need, this method of development can help your organization avoid "the chaos of inefficiency" that besets all too many companies.
Design thinking, by its nature, differentiates your company's products or services. Instead of creating solutions that seem repetitive or superfluous, teams begin to develop ideas that solve real challenges in a way that matches users' needs.
This approach can also result in faster time to market than more traditional linear approaches. Although more time is spent up front during ideation, the prototyping and testing phases are meant to occur as quickly as possible. And because so many ideas are already on the table, any need to tweak or scrap the initial solution does not necessitate a return to the drawing board. Alternative solutions are already at hand.
Design thinking can also help your company to stay flexible and innovative by preparing your design teams to better respond to market changes and evolving customer needs.
Ask for help if necessary
Data analytics can provide the necessary user data to help your team define and refine ideas. The booming demand for skilled analytics professionals can be a stumbling block for some organizations.
"Design thinking is not easy," says Stanford. "It requires constant creativity and the willingness to adapt on the fly. Even people who have been practicing design thinking for years need the rigor of the process."
In such cases, bringing in a managed services company such as Fallon Consultants can help you jump-start the process.
Do you use design thinking in your organization? Do you have the data analytics capabilities to back up such an approach? Fallon Consultants can help you make the most of your company's data. For a free cost analysis, contact Fallon Consultants at [email protected] or 845-624-3504.